March 31, 2021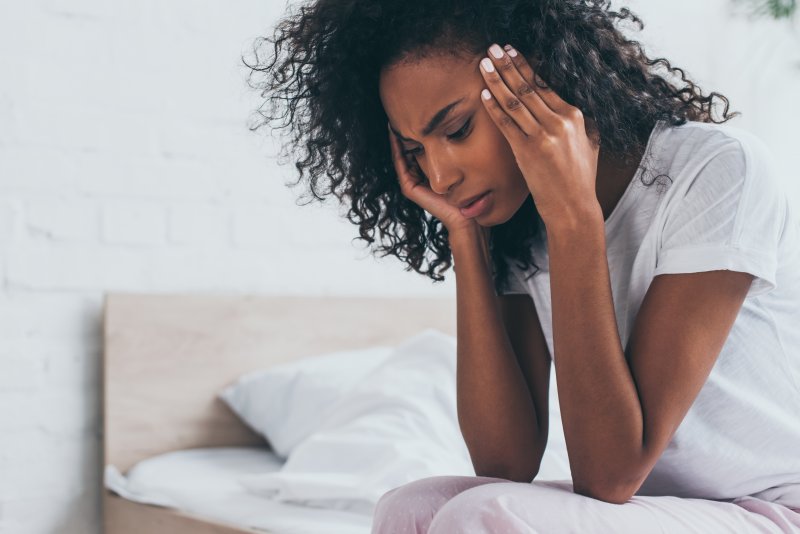 Do you ever experience a clicking or popping sound when you chew? Have you begun to experience discomfort in or around your ear? Do you frequently notice jaw tenderness throughout the day? Then you may have Temporomandibular Joint Disorder (TMJ). Currently, there are over three million cases in the U.S. alone. One of the most common complaints? Persistent, painful headaches. Fortunately, there is an effective (and surprising) solution: BOTOX! Keep reading to learn more about how this treatment can stop TMJ headaches.
What Is TMJ?
Before diving into how BOTOX can help, it is important to first understand what TMJ disorder is. The temporomandibular joint is the hinge that connects your jawbone to your skull, allowing you to chew and speak. Unfortunately, this area of your mouth is extremely sensitive to stress, causing your muscles to tense up, resulting in:
Sore cheeks and jaw.
Chronic headaches.
Pain in your neck and ears.
Teeth clenching and grinding.
A clicking noise when you chew.
How Can BOTOX Help?
BOTOX is widely known as a wrinkle-combating, fine-line-preventing cosmetic treatment. However, it has been used in the medical field for decades. In fact, it was originally intended to help patients struggling with eye spasms. Since the injections effectively prevent nerve cell signals from reaching your muscles, they can ease jaw tightness, reduce the frequency of headaches, help you sleep better, and even protect your teeth from the effects of bruxism. In fact, recent studies have found that TMJ-related symptoms improved by a whopping 90% with the use of BOTOX!
What to Expect from Treatment with BOTOX
If you haven't received a BOTOX injection before, then you may be wondering what exactly you can expect. Although each treatment is completely customized to your unique needs, there are a few all-encompassing steps. The first is to determine the number of injections you need. From there, several infections will be administered throughout your forehead, temple, and jaw muscles. Within the first couple of days, you will notice a slight improvement. By the end of the first week, you'll experience a drastic difference for the better!
When you think of treating symptoms of TMJ, like chronic headaches, your first thought probably wasn't to consider BOTOX. However, the positive effects of this treatment have been proven time and time again. So, if you are struggling with symptoms of TMJ, make sure to get in touch with your dental team and ask if BOTOX is right for you!
About the Practice
Led by Dr. Jaclyn Jensen, our team is excited to combine the latest dental techniques with our world-class service, personalized care to ensure your smile is well cared for in every stage of your life. To accomplish this, we are proud to offer a comprehensive array of services, including BOTOX! In fact, our team has received special training to ensure they are performing the injections safely and effectively. To learn more about BOTOX in Crookston or to schedule your appointment, visit our website or give us a call at 218-281-1301.
Comments Off

on BOTOX: The Secret to Getting Rid of TMJ Headaches?
No Comments
No comments yet.
RSS feed for comments on this post.
Sorry, the comment form is closed at this time.