Preventive Dentistry — Crookston, MN
Maintain Optimal Oral Health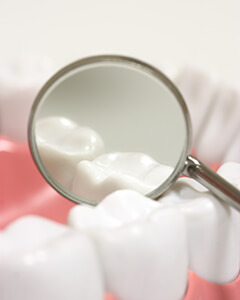 Preventive dental care is essential to helping patients keep their healthiest smiles for life, and the Renu Dental team in Crookston, MN make general and preventive dentistry the top priority for our patients' treatment planning. We recommend patients visit us at least two times each year in keeping with the American Dental Association's recommendations. Whether it's been six months or six years since your last visit to the dentist, we invite you to start down the path to a healthier smile by contacting our skilled dentistry team to schedule an appointment today for preventive dentistry in Crookston, MN. We welcome Crookston residents as well as patients from Fisher and other nearby communities.
Dental Checkups & Teeth Cleanings
In the early days of dentistry, patients only visited the dentist in reaction to a toothache or other dental damage, but years of research showed that this reactionary care was inadequate to help patients keep their teeth healthy. A group of dental researchers commissioned by the US government determined that keeping two preventive checkups each year was the best way to preserve healthy natural teeth for a lifetime. Each six month checkup at Renu Dental has four main parts:
Diagnostics – digital photos and x-rays give us a complete picture of how the internal and external structures of smiles are working and are essential to accurate diagnosis and treatment planning
Examination – a visual examination of the oral structures allows us to screen for a variety of common oral health issues including tooth decay, gum disease, temporomandibular joint (TMJ) dysfunction, bruxism (teeth grinding and clenching), and oral cancer
Cleaning – one of our trusted hygienists carefully removes plaque and tartar from every surface of patients' teeth to prevent decay and soft tissue irritation leading to gum disease
Consultation – before leaving, patients sit down face to face with the dentist to discuss their current state of oral health, treatment options, and goals for lifelong oral health
At these regular visits, we're happy to answer questions, explain or demonstrate proper at-home hygiene, and make recommendations to protect or improve oral health. Most importantly, visiting our dental office regularly allows Dr. Tiara Applequist and her team to become familiar with your smile and recognize changes in earlier stages.
Learn More About Dental Checkups and Cleanings
Dental Sealants
While brushing and flossing are essential parts of maintaining a healthy smile, some patients still struggle with keeping the deep pits and grooves of their back teeth completely clean, resulting in the creation of cavities over time. Thankfully, dental sealants create a barrier between tooth enamel and the potentially damaging effects of bacteria. Bacteria live in the mouth and are essentially harmless, but like all living organisms, they digest nutrients and excrete waste. The sticky, acidic byproduct of bacteria is called plaque, and it is the cause of tooth decay and gum disease. Dental sealants prevent plaque from building up and keep tooth enamel strong.
Nightguards for Bruxism
Bruxism, unconscious teeth grinding and clenching, typically occurs during the night as patients sleep. While grinding teeth during the night may seem like a relatively innocuous habit, it's possible for patients to do a great deal of damage to their teeth if bruxism goes untreated. We offer patients comfortable, custom crafted nightguards to protect their smiles. Worn during the night, these mouthguards allow the jaw to rest in a comfortable position which reduces the amount of grinding, and the guards place a physical barrier between teeth that keeps them from rubbing together damaging dental structures.
Oral Cancer Screening
Oral cancer screenings are an essential part of every dental checkup for all our patients. Many of those we see think only patients who use tobacco need to be screened for oral cancer, but actually, more than 30% of patients diagnosed with oral cancer don't engage in any of the behaviors that increase patients' risk to develop oral cancer. According to the Oral Cancer Foundation, the best way to decrease the number of annual deaths attributed to oral cancer is to diagnose and treat the disease in earlier stages. That's why we included screening for oral cancer as part of every checkup.
Fluoride Treatment
While teeth develop, the tooth enamel is strengthened by fluoride absorbed in fluoridated water and foods. However, once teeth erupt, topical fluoride is necessary to keep enamel strong. In most cases, fluoridated toothpastes and mouthwashes are adequate to keep teeth strong. For younger patients who are still developing oral hygiene habits and adults who are prone to decay, professional grade topical fluoride treatments help strengthen tooth enamel making smiles strong and decreasing the risk for tooth decay.