Porcelain Veneers — Crookston, MN
Smile with More Confidence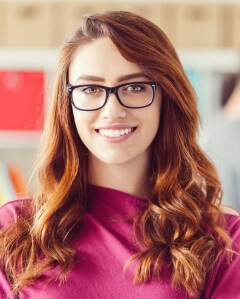 If a picture paints a thousand words, then your smile should be hanging in a museum! At least that's the kind of smile you want to have. However, if your smile makes you self-conscious, then you may not be willing to share it. You're not alone if you refrain from smiling because of imperfections such as chipped, cracked or broken teeth. However, there is a solution that is relatively easy and remarkably effective. With porcelain veneers in Crookston, Dr. Applequist can give you a smile that is truly museum quality.
What are Porcelain Veneers?
Porcelain veneers are hard coverings that are adhesively bonded to the facial side of your smile teeth. They are made of dental porcelain or composite resin material, a hard medical-grade plastic. Both materials provide the translucency you want for a natural-looking finish that reflects light similarly to your real teeth. Moreover, a porcelain veneer can be designed to alter the size, shape or color of a tooth. Each one is individually designed to repair the imperfection of its corresponding tooth. Once the veneers are in place, you have a complete smile that is simply gorgeous.
What's the Process for Porcelain Veneers?
The road to a more attractive smile begins with a consultation with Dr. Applequist. She'll want to hear about which specific imperfections you want to hide and the overall results you'd like to achieve with porcelain veneers.
Before the procedure, the cosmetic dentist in Crookston will examine your teeth and gums to ensure they are healthy enough to support veneers. Problems such as tooth decay or periodontal disease will need to be addressed before we begin treatment.
Once cleared, you're only two appointments away from having your new smile. At the first visit, your teeth are prepped. This involves removing a scant amount of enamel coating in order to ensure that your veneers fit properly against each tooth. In addition, this process makes the surface of teeth slightly rough, which helps the adhesive material bond more securely to the tooth.
Once the teeth are etched, temporary veneers are applied. Made of acrylic, these are not as strong as porcelain but they do a good job of protecting your altered teeth. In addition, they give you a couple of weeks to get accustomed to how veneers feel before the permanent ones are bonded to your teeth.
Once in place, your custom crafted porcelain veneers will give you years of pleasure. Be sure to brush and floss everyday to keep your smile clean and to ensure the health of teeth hiding behind your veneers.
To find out if porcelain veneers are right for your smile, contact Renu Dental today to schedule a consultation.