Crookston Children's Dentistry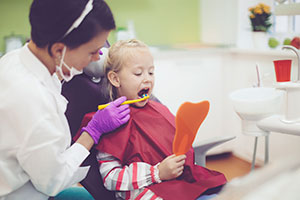 We welcome whole families to visit our office, and we pride ourselves on offering superior quality dental care for patients of all ages. Our kid friendly practice has a number of treatment options uniquely geared toward helping kids develop strong, healthy teeth and keep them for life. Dr. Tiara Applequist and her dentistry team have years of experience working with young people and their unique oral health and behavior needs, and we work hard to ensure children develop positive associations with dental visits. We invite patients to schedule checkups for the whole family on the same day for optimal convenience, and offer a number of treatment option specifically geared toward kid's unique oral health and behavioral needs. At Renu Dental in Crookston, MN, we're passionate about offering the highest quality care for patients at any age or stage of dental development. Contact our team to schedule an appointment for your little one or the whole family today.
When Should I Bring my Child to the Dentist?
Dr. Applequist recommends that parents bring their children to the dentist prior to starting pre-school. However, parents are welcome to bring their children sooner if they already have concerns. These early checkups allow our team to keep patients' smiles whole and healthy, build a great relationship between your child and the dentist, and answer parents' questions about caring for little smiles at home.
Why Should I Choose Renu Dental for My Child's Care?
We think that one key to ensuring patients continue to keep their smiles whole and healthy is making dental treatment convenient. That's why we welcome patients to schedule their family's checkups on the same day. No need to make multiple trips to two or more offices. Simply, bring the whole family to see Dr. Applequist and her knowledgeable dental team.