Restorative Dentistry — Crookston, MN
Repair & Renew Oral Health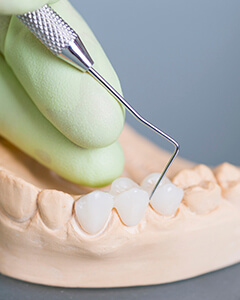 While preventive dentistry is always our top priority, even the most thorough dental care routine can fall short. When decay or damage occurs, we offer a wide variety of treatment options to fully restore the form and function of damaged smiles quickly and comfortably including CEREC single visit dental restorations. If you've experienced tooth decay or damage or it's time for your six month dental checkup, contact our team to schedule an appointment for preventive dentistry in Crookston, MN. We welcome local dental patients from Crookston, Red Lake Falls, and other nearby communities.
Tooth-Colored Fillings
Traditionally, minor tooth decay, chips, and cracks were repaired using amalgam filling material. Amalgam is darkly colored which noticeably affects the appearance of smiles, but in addition to this less than ideal cosmetic result, amalgam fillings also lead to a number of oral health concerns. The metal material expands and contracts when exposed to temperature changes. This fluctuation in size may damage tooth enamel, cause the filling to become dislodged, or allow bacteria to access the tooth leading to further decay. For these reasons, amalgam fillings invariably need to be removed and replaced over time, and in most cases, we recommend replacement with tooth-colored composite resin fillings. Sometimes referred to as direct fillings, composite resin is a putty-like substance that is available in a variety of shades our dentist can blend to match patients' tooth color for a seamless appearance following treatment. Additionally, composite resin fillings offer a number of oral health benefits including:
Applied directly to the tooth in a putty-like state, composite resin is able to seep into even the smallest pits and crevices in the tooth creating a strong, natural, durable bond with the treated tooth
Because composite resin does not expand and contract with changes in temperature the way that amalgam does, it is less likely to break remaining tooth enamel or become dislodged over time
The tooth-colored material is easily shaped to exactly restore the lost dental structure and hardened into position directly on the tooth creating a durable bond all in just one, short, painless visit to the dentist
Traditional Dental Crown & Bridge
Dental crowns are the most commonly recommend restorative dentistry services. This versatile treatment can be used to correct severely damaged or decayed teeth, conceal purely cosmetic flaws, protect teeth that have undergone root canal therapy, replace a single tooth when attached to a dental implant, and support a fixed bridge restoration when placed over the teeth on either side of the replacement tooth. Most of the crowns and bridges we place are crafted using our in-office CEREC system allowing us to design, mill, and place a restoration in just one visit.
Dentures & Partials
Partial and full dentures are necessary for those patients who have experienced significant tooth loss. Partial dentures are made from a number of replacement teeth set into a gum colored base. Partials are held in place using metal clasps affixed to remaining healthy teeth. Full dentures replace an entire arch of teeth. A row of prosthetic teeth are set into a gum colored base that is shaped to fit snuggly onto the gums and jawbone structure creating suction that holds the prosthetic in place. We are also happy to discuss dental implant supported partials and dentures for those interested in a more stable solution.
Root Canals
Root canals are necessary when dental decay or damage reaches the interior pulp layer of teeth where the nerve is housed. A root canal is a procedure to remove the damaged pulp and nerve reducing pain and restoring health to the tooth. In some cases, our team is able to safely and effectively complete these treatments, but for more advanced cases, we partner with local endodontic specialists to ensure patients get the high quality care they deserve.