Traditional Braces – Crookston, MN
Straightening Smiles for Brighter Futures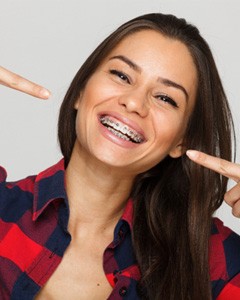 Traditional braces have been around for decades. When crooked, gapped, or misaligned teeth cause problems with your oral health or facial aesthetics, you may find that the only possible solution for improvement is to wear regular metal braces. At Renu Dental, you'll be pleased to learn that our team is highly trained and skilled at treating simple and complex orthodontic cases, and we do so with the help of traditional braces. Proven effective in straightening smiles, they are a great option for both children and adults. Call us today to find out if you are a candidate for this type of orthodontic treatment.
Why Choose Renu Dental for Traditional Braces?
State-of-the-Art, Advanced Technology
Dedicated to Patient Comfort
Dental Insurance Welcome and Financing Available
How Do Traditional Braces Work?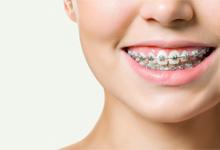 Traditional metal braces are comprised of a bracket-and-wire system attached to the front surfaces of your teeth. Placing each bracket in its appropriate position on the tooth, a metal archwire is then threaded through the brackets. Ligatures are designed to help hold the wire in place, allowing it to apply pressure to your teeth and encouraging them to move in the right direction throughout treatment.
As you discover that your teeth are shifting, you will be required to participate in follow-up appointments with our dental team. Depending on the status of your progress, we will replace the archwire or tighten it to keep teeth moving. You may feel some slight discomfort after these visits, but over-the-counter pain relievers can help.
Eventually, your teeth will reach their final destination, leaving you with a healthier, more beautiful smile.
What Orthodontic Issues Can Braces Fix?
Metal braces are capable of treating the simplest or the most complex orthodontic issues, including:
Bite Misalignment
An improper bite can wreak havoc on your facial structure and functionality. Not only can it cause worn-down tooth enamel, but it can also result in chronic jaw pain that is commonly linked to temporomandibular disorder (TMD). By wearing braces, though, we can realign your bite so that it works harmoniously with the rest of your oral structure and ensures a healthier smile.
Crowded & Crooked Teeth
When teeth appear crooked or crowded, it often leaves an unpleasant appearance. Not to mention, there is much difficulty associated with trying to clean between teeth that sit too close together. With the help of traditional orthodontics, however, your teeth can move in such a way that necessary space is created so you can adequately clean all surfaces of your teeth as well as in between them. As a result, you are able to maintain better oral health in the long run.
Gapped Teeth
Too much space between your teeth can be just as challenging, especially when food particles become trapped. With braces, we can work to close these gaps, creating a more beautiful appearance while also reducing your risk for serious tooth decay and gum disease in the future.
Caring for Your Braces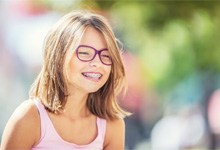 There are a few key tips you'll need to adopt when it comes to caring for your new braces, including:
Make sure you're brushing and flossing after every meal to ensure no food debris and bacteria remain on your teeth.
Limit your exposure to hard, crunchy, and chewy foods, as they can damage your brackets and wires. If you bite down with too much force or eat something hard and chewy, it can pry off your braces or cause them to break.
Don't forget to protect your smile while on the field, court, or track to avoid any damage to your appliances. Also, wear a mouthguard if you tend to grind your teeth at night.
Maintain your appointments with your dentist so that your orthodontic treatment remains on track.