Botox Cosmetic Treatment – Crookston, MN
Giving You a Youthful Appearance in Less Time
Do you want to turn back the clock on your appearance? Do you want to say goodbye to the crow's feet and wrinkles surrounding your eyes and mouth? As you grow older, the natural aging process begins to take effect, leaving some patients yearning for their younger days. Years of laughter and smiling are becoming permanent on your face, and while you don't want to erase the memories, you certainly wouldn't mind erasing the fine lines. Dr. Jaclyn Jensen, a cosmetic dentist in Crookston, can help you achieve a younger, fresher look and feel with Botox. Patients flock to this method of treatment because of its safe, effective, and fast-acting results. To find out how you can receive help with Botox, call us to schedule an appointment with Dr. Jensen today.
What is Botox and How Does It Work?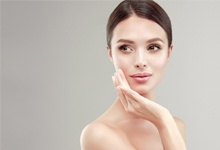 If your goal is to take years off your facial appearance, look no further than Botox injections. This refined form of what is known as botulinum toxin is injected into specific areas of the face to paralyze the muscles. This temporary paralysis prevents the muscles from contracting and causing embarrassing wrinkles.
However, Botox isn't only just for aesthetic purposes. Yes, it will smooth out your facial features, but patients who suffer from TMJ, migraine headaches, and muscle pain can also find relief with Botox injections.
In less than one hour, Dr. Jensen can reduce pain, fine lines, and wrinkles in such a way that results will last for six or more months!
Say Goodbye to Wrinkles: The Benefits of Botox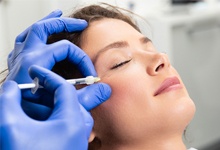 There are typically two reasons to pursue Botox: aesthetic appearance and/or health-related conditions. Depending on your individual needs, there are many benefits that can be obtained with Botox, some of which include:
Decreased lines on your forehead and near the eyes (crow's feet), nose, and lips
Removal of frown lines
Eliminating wrinkles around the neck area
Reducing excess sweating in your armpits
Treating migraine pain and TMJ disorders
Botox can also help to alleviate and improve problems with uncontrollable blinking, lazy eye, and muscle spasms.
Why Should I Get Botox from a Dentist?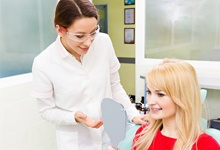 When having any kind of cosmetic treatment performed, it is always best to seek the care and assistance of a professional. The reason you should have Botox administered by a dentist is that individuals like Dr. Jensen receive special Botox training that ensures they are performing the injections safely and effectively.
One of the best reasons is that it saves on time because everything can be done in just one visit! From a general cleaning and checkup to teeth whitening and Botox, we can take care of it all. Your smile and appearance will look much different by the time you leave our office.
BOTOX FAQs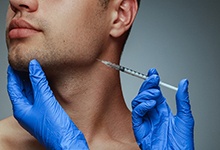 Would you like to learn more about BOTOX before scheduling an appointment? For your convenience, your cosmetic dentist in Crookston has answered some common questions we receive about this procedure below, for your convenience.
Does getting BOTOX hurt?
If you're worried about the BOTOX injections hurting, you'll be pleased to know that they won't! In fact, BOTOX is administered via a small, 31-gauge needle. For reference, this is the same sized needle used to administer insulin for diabetics and is incredibly small. You may feel some slight pressure when the needle is inserted, but afterward, you shouldn't feel a thing!
What age should I start getting BOTOX?
There's no "primary" age to start getting BOTOX, because ultimately, it's completely dependent on your personal wants and needs. However, many of our patients who seek out this treatment are typically in their mid-30s or more mature. The best way to learn whether this treatment could help you achieve your ideal image is to schedule a consultation with your dentist in Crookston so we can learn more about what you're looking to get out of BOTOX.
How should I prepare for my BOTOX appointment?
For the best results, you may want to prepare for your BOTOX treatment. You can do this by not consuming alcohol the week before your appointment. It's also a good idea to consult with us about any medications you may be taking, because some of them may increase the likelihood of bruising.
Are there any side-effects of BOTOX?
After your treatment, you may experience some slight bruising, tenderness, redness, or even swelling, but these are all completely harmless and common side-effects. If you're ever concerned, don't hesitate to contact our office. Otherwise, BOTOX is an FDA-approved treatment that rarely causes adverse complications or reactions.
Do BOTOX results look natural?
Many patients are worried that if they get BOTOX, the result they produce will look fake or unnatural. The purpose of BOTOX is to create subtle and realistic-looking cosmetic improvements, not to alter the shape or structure of your face. When the treatment is performed by a trained professional, the improvements will be so subtle that nobody will even know that it was done.
How many BOTOX injections will I need?
The number of injections that you need will depend on what results you're hoping to achieve. If there are several areas of your face that are forming lines that you want to target, we'll help you decide how many injections would suffice during your consultation.