Crookston Dental Implants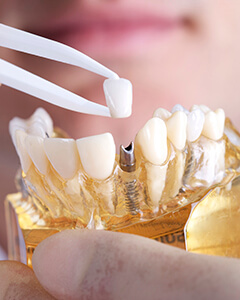 Traditional tooth replacement options only restored those portions of the smile visible above the gum line, but dental implant supported tooth replacement allows Dr. Jaclyn Jensen and the Renu Dental team to restore the entire tooth roots and crown. Dental implant supported tooth replacement is a two phase process. During the first phase, dental implants are surgically placed below the gum line. For this portion of treatment, we partner with local specialists to ensure our patients are safe and receive the best possible care. Following implant placement, patients return to our office for the second phase of care – restoration. Contact our knowledgeable team to find out more or schedule and appointment today.
Implant-Retained Crowns & Bridges
Those patients missing between one and four consecutive teeth will likely need an implant supported crown or fixed bridge. For single tooth replacement, we attach a dental crown to an implant post. For consecutive missing teeth, we place a dental implant at either end of the prosthetic to anchor the fixed bridge.
Implant-Retained Prosthetics
Patients with more extensive tooth loss should consider partial and full implant supported dentures. Partials are used to fill a number of gaps in patients' smiles, and they are composed of several teeth set into a gum colored base. The partial is then attached to a strategically positioned set of dental implant posts that provide optimal support. Full dentures are entire rows of replacement teeth set into a gum colored base that is then held firmly in place using four to six dental implant posts. We offer both fixed and removable options depending on patient preference.