Dental Implants — Crookston, MN
Restore Your Smile and your Confidence!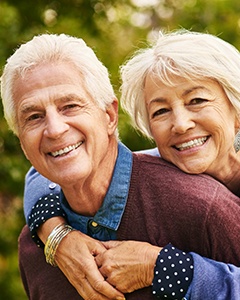 Living without one or more of your natural teeth really takes a toll not only on your daily life, but also your confidence and self-esteem. It becomes difficult to properly chew and eat the healthy foods you would normally enjoy when you have a gap in your grin. It also might feel embarrassing talking and smiling at other people when you don't feel confident about your smile. The good news is that dental implants in Crookston, MN offer an excellent long-term solution for restoring your oral health and your smile. Please contact our friendly team at Renu Dental today to learn more!
Why Choose Renu Dental For Dental Implants?
Dental Implant Placement & Restoration Offered In-House
Soothing Nitrous Oxide Sedation Available for Maximum Comfort
Flexible, In-House Dental Financing Options
What Are Dental Implants?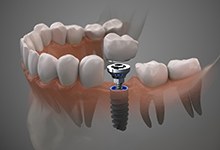 A dental implant is a small metal cylinder that is surgically placed into the jawbone to replace the root structure of a missing tooth. Typically, dental implants are made of titanium because it's biocompatible. After the implant is placed, the surrounding bone tissue grows around it, allowing the implant to function exactly like the root of your real tooth. After this process has occurred, we can place a personalized crown, bridge, or denture over the implant to bring back the visible part of your smile. Once dental implant treatment is complete, your new tooth or teeth will look, feel, and function just like natural!
The 4 Step Dental Implant Process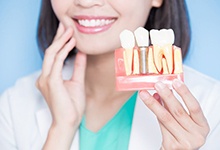 How dental implants work in Crookston is somewhat different from the process for other forms of tooth replacement, such as dentures and bridges. Implants require more time and a more complex level of care. However, the end results are well worth it!
Here at Renu Dental, we are proud to offer start-to-finish dental implant treatment — in most cases, there is no need to refer patients to an outside specialist. When you come in for your consultation, Dr. Applequist and our team will walk you through the journey that awaits you. Most patients go through four stages of treatment before their implant-supported smile is complete.
Initial Dental Implant Consultation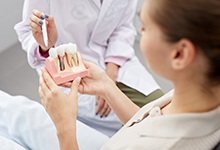 During your consultation, Dr. Applequist will get to know your oral health and determine whether you are a candidate for dental implants. This may involve taking X-Rays, performing a visual examination, and learning about your medical history and lifestyle. Feel free to ask questions during this critical appointment — we want you to feel confident about any treatments that you may commit to!
If implants are not suitable for you right at the moment, you may become a candidate after some restorative treatments. For example, some patients require gum disease therapy. Once your mouth is ready for dental implants in Crookston, our team can start planning your implant placement surgery.
Dental Implant Surgery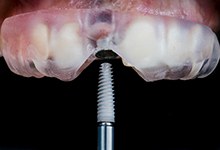 Dr. Applequist, a highly skilled implant dentist in Crookston, can perform this complex part of your treatment right here in our dental office, so you will not have to visit an outside specialist. Instead, you will get to enjoy streamlined care from a team you already know and trust.
During the procedure, your mouth will be numbed. You may also be sedated. Once you are comfortable, incisions will be made in your gums, and the implants will be carefully inserted at precise, pre-planned locations in your jawbone. Once the incisions are closed over your new prosthetic tooth roots, your body can begin its healing process.
Dental Implant Osseointegration & Abutment Placement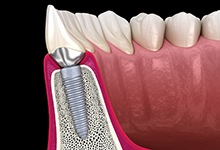 After the implants are placed in your jawbone, a biological process known as osseointegration begins. Your jawbone will heal around the implants, fusing with them so they can provide a sturdy and long-lasting base for your new teeth. In most cases, adequate osseointegration requires 4 – 6 months to complete.
Once your implants have bonded with your bone, you may undergo a second minor surgery, wherein the tops of your implants will be exposed and healing caps will be placed on them. Later, you will receive abutments (small connector pieces that will serve to keep your new teeth in place).
Delivery of Dental Implant Restorations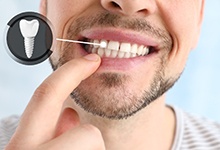 When you are ready to receive your new crown, bridge, or denture, our team will take detailed impressions of your mouth. Then, those impressions will be used by a dental laboratory to create your custom new teeth. The size, shape, and color of your restoration will all be tailored to complement your unique smile.
After the lab sends your restoration to us, we will verify its fit before we attach it to your implants. It may take a few weeks to adapt to your new smile, but you should be smiling and eating confidently in no time!
Benefits of Dental Implants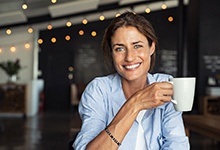 No matter how many teeth you've lost, dental implants are able to rebuild the appearance and function of your smile back to what they used to be. For this reason, implants are often considered the gold standard when it comes to replacing missing teeth. They offer countless advantages over other restorative options such as traditional bridges or dentures. To learn more about the benefits of dental implants, keep reading below, or just give us a call!
A Truly Long-Lasting Solution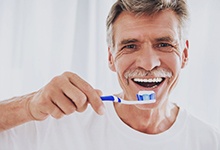 Dental implants are the only method of tooth replacement that replicates the entire structure of the lost tooth, not just the crown that's visible in your mouth. The implant itself is placed beneath your gumline in your jawbone, and is topped with a custom-made restoration. Within a few months after placement, the implant has fused to your jawbone, creating a powerful bond that can last for decades to come. It's also easy to maximize the lifespan of your new teeth. Just brush, floss, and attend dental checkups on a regular basis.
Maintain Your Youthful Appearance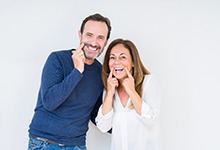 When even one tooth is lost, the root is no longer there to stimulate the jawbone. As a result, the bone starts to shrink. Over time, this can change the shape of your facial muscles as they lose support, resulting in your looking older due to premature drooping and wrinkling. Because implants stimulate bone growth, you can stay looking young for years and years.
Tooth Replacement That Feels As Natural As It Looks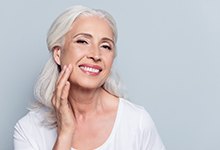 Traditional dentures and bridges only replace the crowns of your teeth, not the roots. So, as natural as they may look, they won't quite feel like the pearly whites you were born with. Dental implants, on the other hand, replace the root structure of your teeth, eventually becoming attached to your jawbone to the point that's it's as if they're a part of your own anatomy. In addition, your implants will be restored with a dental crown, bridge, or denture designed to perfectly resemble your natural teeth.
No More Embarrassing Slippage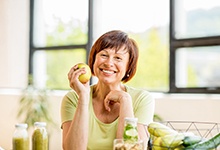 Wearers of conventional dentures may be familiar with the annoying and sometimes embarrassing slippage that can occur when eating or talking. Because of the firm bond with your jawbone, implant dentures won't do this. Instead, they'll remain in place as they should. They can even be fixed in your mouth, so all you have to do to clean them is brush and floss like you would with natural teeth.
Protect Healthy Remaining Teeth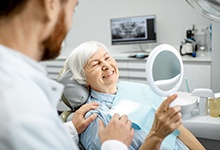 In order to place a dental bridge, two of your remaining natural teeth must be filed down slightly to place crowns over them. Over the years, supporting a bridge can take a toll on these teeth, to the point that they might need root canal therapy down the road. With dental implants, none of your natural teeth have to undergo any stress or damage.
Who Dental Implants Can Help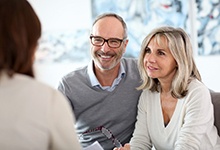 Dental implants are capable of replacing one tooth, or multiple teeth including an entire arch. They can support different types of restorations that allow our dentists to restore your smile, even if you're missing most of your teeth.
Missing 1 Tooth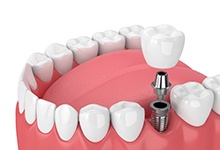 When you are missing only one tooth, your implant restoration will be a customized porcelain crown. It's designed by our dentists to match your neighboring teeth and blend flawlessly with your smile.
Missing Multiple Teeth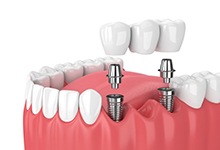 If you are missing multiple teeth, dental implants can be used to support a prosthetic such as a dental bridge or partial. These appliances fill in the gaps of missing spaces, while also protecting the health of your jawbone.
Missing All Teeth
If you are missing an entire arch of teeth, an implant denture is the solution you're looking for. A few strategically placed implants can support a denture that has been designed to "snap" into them. Implants offer denture wearers improved stability so there is no movement or slippage when they talk or eat. They also promote bone health, which ensures longevity for your denture.
Understanding the Cost of Dental Implants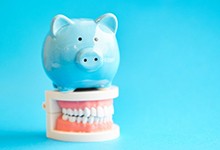 The cost of dental implants varies greatly with each patient. A few factors come into play when determining the fees such as the number of implants you're getting, what type of restoration is being placed, and the complexity of the case. Rest assured that our team will come up with a personalized treatment plan just for you. We can also go over your various financing options, such as dental insurance, CareCredit, Lending Club, and our in-house savings plan.
Dental Implant Technology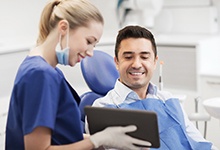 At Renu Dental, Dr. Applequist is committed to providing patients with only the very best in dental implant technology in Crookston. When patients arrive to have their missing teeth replaced with dental implants, this advanced equipment allows for improved accuracy and precision, making it possible for us to better plan for treatment and surgery. Because we value safety and comfort, our ability to provide updated technologies makes it possible to ensure our patients have an enjoyable experience from beginning to end.
3D Cone-Beam Imaging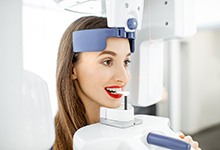 Traditional dental X-rays are beneficial in allowing an implant dentist in Crookston to get a better look at various teeth; however, our Sirona Orthophos SL 3D imaging system provides a more in-depth, comprehensive overview of a person's entire oral and facial structures. When preparing for dental implant surgery, this device is a game-changer.
Once the patient gets into place, the device rotates a full 360 degrees. During its rotation, it captures hundreds of pictures from various angles, producing a complete 3D image of the teeth, gums, jawbone, nerves, tissues, and overall facial structure. Not only does this make it possible to formulate a thorough and precise treatment plan, but it helps our team to identify areas that may require preliminary treatment (i.e., bone grafting) and/or those we will need to avoid during the surgical procedure.
By using this unique technology to prepare and plan for a person's dental implants in Crookston, we can ensure a more successful procedure that promotes greater patient comfort and satisfaction.
Dental Implant Failure and Salvage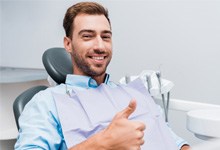 Sometimes dental implants aren't able to form a bond with your jawbone, and in other cases, certain dental issues can cause them to become loose or damaged. Make sure you're always ready to call our practice in case you see any signs that your dental implants have failed. After we've identified the cause, we can walk you through the available treatments that can help you keep your smile safe. Even if your dental implant needs to be removed for the time being, we may be able to place a new one later once your treatment is finished and your jaw is once again ready to support an implant post.
Learn More About Dental Implant Failure and Salvage
Maintaining & Caring for Your Dental Implants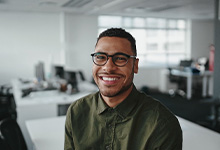 Dental implants can last for over 30 years, and with the proper routine and daily maintenance, you can extend that lifespan to possibly a lifetime! By being intentional about caring for your new teeth, you can get the most out of your restoration and ensure the health and happiness of your smile for decades to come. Below, we've included some helpful tips to keep your replacement teeth healthy and looking like new.
Make Oral Hygiene a Priority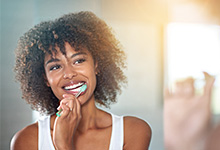 Just like with your natural teeth, it's crucial to brush, floss, and rinse your mouth regularly with dental implants to prevent tartar and plaque build-up. The leading cause of implant failure is an infection called peri-implantitis, which is a result of bacteria accumulation that infects the hard and soft tissues that support your implants. By brushing and flossing every day, you can beat peri-implantitis and continue enjoying your replacement teeth.
Maintain a Balanced Diet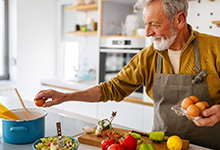 Harmful oral bacteria known to cause infections love to consume carbs and sugars. When you maintain a balanced diet that's not too heavy on these ingredients, you can keep your mouth from becoming a breeding ground for bacteria, resulting in infections, irritation, and inflammation.
Break Bad Habits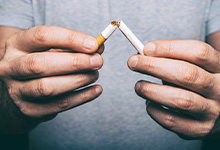 Do you have bad habits like smoking or teeth grinding? These can have detrimental effects on your dental implants when they're left unchecked. If you grind your teeth, consider investing in a customized nightguard that cushions your pearly whites and facial muscles. It's also a good idea to quit smoking leading up to your procedure because it can restrict blood flow to your dental implants, ultimately causing them to fail by keeping them from being able to fuse to the jawbone.
Protect Your Dental Implants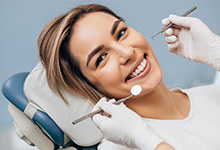 If you play sports or regularly take part in physical activities that could cause one of your dental implants to become loose or dislodged, consider protecting your teeth with a customized sportsguard. This will minimize your chances of needing emergency dental assistance by cushioning your smile against potential trauma.
Schedule Routine Checkups & Cleanings
To keep your gums and bone healthy, it's important to schedule preventive checkups and cleanings with your implant dentist in Crookston every six months. During these visits, our team will take X-rays of your mouth to make sure no issues are developing beneath the gumline and maintain your restorations with thorough cleanings. The best part is these visits are often 100 percent covered by most dental insurance policies!
Dental Implant Post-Op Instructions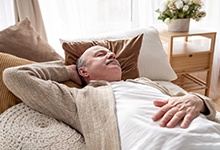 After you have your dental implants placed, there is a recovery period. However, it shouldn't be anything to worry about. By closely following the aftercare instructions of your dentist, your smile will heal in no time. If you are ever experiencing abnormal pain or other strange side effects, don't hesitate to give us a call. Here's what you should know about recovering from dental implant placement surgery.
What to Do Directly After Dental Implant Surgery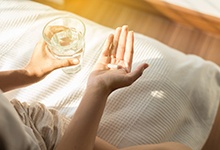 The main priority during the recovery period is to keep the forming blood clot untouched so the healing happens smoothly. Here are some rules you should follow to prevent the clot from being displaced:
Don't spit. Instead, use tissues or swallow your saliva.
Avoid using straws when you drink.
Don't smoke immediately following your procedure.
Try to keep your fingers and tongue away from the surgical site.
Common Side-Effects When Recovering from Dental Implant Placement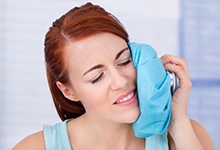 Some mild side effects are common – especially in the first few days following your procedure. These are the most common ones:
Bleeding: This can go on for several days. To reduce bleeding, use gauze and light pressure.
Swelling: This is common over the first 72 hours, but it can last longer. Try using a cold compress to reduce inflammation.
Soreness: It's normal to experience some discomfort after your procedure. This can be alleviated with over-the-counter pain relievers.
All of these side effects should be temporary and gradually subside. If you notice any of your symptoms worsening or not going away, let us know what's going on so we can help.
Your Diet After Dental Implant Surgery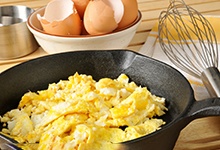 For the first few days after your dental implants are placed, we recommend sticking to softer foods. Here are some examples of foods you can enjoy during this period:
Mashed potatoes 
Yogurt
Ice cream
Pudding
Soup
Scrambled eggs
Pasta
You can return to your normal diet once you feel comfortable. However, it is a good idea to limit particularly crunchy and tough foods for the time being. Avoid chewing directly on the implant site as it continues to heal.
Post-Op Health & Oral Hygiene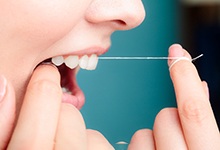 As your smile heals, it's important that you keep it clean. You can brush your teeth as you normally do the day after your surgery. However, you should be very careful near the surgical site. Rinse your mouth after meals with saltwater. During the healing process, avoid mouthwashes that contain high levels of alcohol. This can aggravate the surgical site and delay healing.
What to Do After Your New Teeth Are Attached
Once your replacement teeth have been attached to your implants, the difficult part is over. You may experience some minor sensitivity at first, but this should be short-lived and easy to manage with over-the-counter pain relievers. You shouldn't experience any swelling, bleeding, or extensive recovery. Now you can show off your beautiful, complete smile!
Dental Implant Frequently Asked Questions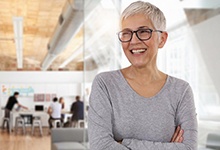 A dental implant is an excellent solution to replace a lost tooth because it's the next best thing to what nature gave you. Although you're excited to enjoy a complete smile, we know you have several questions before you're ready to get started. We will explain the entire process during your initial consultation. While you wait for your appointment, we have the answers to a few of the most common questions we hear to help you make the best choice for your smile.
Does Getting Dental Implants Hurt?
You will need oral surgery to insert a titanium implant post into your jawbone to serve as a new root. Don't worry, sedation or anesthesia are used during your placement surgery, so you won't feel any pain. As with any surgery, there will be some discomfort while you heal, but it can be managed with over-the-counter pain relievers.
Can I Get Dental Implants If I Have Gum Disease?
Although gum disease is preventable, at least 50% of adults have a form of it. Not to mention, it's also the leading cause of tooth loss. If you've lost teeth from the infection, you aren't a candidate for dental implants if you still have gum disease. Thankfully, you can create the healthy foundation your smile needs to thrive with periodontal therapy. We create the personalized treatment plan you need to stop the infection in its tracks. In some cases, you may need additional procedures to repair the damage it' has caused, like tooth extractions or bone grafting.
Can I Get Dental Implants If I Have Jawbone Loss?
If you've lost bone from gum disease or prolonged tooth loss, you may not be a candidate for dental implants because your jaw won't be able to support the posts. You can create the sturdy framework your new smile needs with bone grafting. This procedure adds thickness to areas of weakened bone to ensure your jaw can support the posts long-term. Although it creates another step in your treatment plan, it's necessary to promote the success of your new smile.
Can Dental Implants Fail?
Dental implants are the most reliable solution to treat tooth loss. In fact, they have over a 95% success rate. Unfortunately, they can fail, but it is rare. Often, it's the result of a preventable infection called peri-implantitis. There are several things you can do to lower your risk of complications, like maintaining your oral hygiene and visiting your dentist regularly.
Can I Use My Dental Insurance To Pay For Dental Implants?
Although every insurance policy differs, many plans will cover a portion of the cost of your treatment after paying your annual deductible. We will help you maximize your insurance policy to lower the amount you need to pay out-of-pocket. We offer a variety of payment options to cover any remaining balance, including third-party financing with CareCredit. Our dental office will help you find the solutions you need to pay for your new smile without worrying about a large bill.