April 20, 2019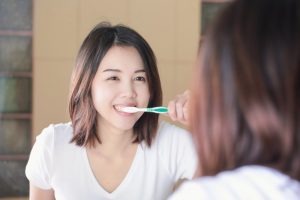 More than 29.1 million Americans live with diabetes, and nearly 22% of them are also affected by gum disease. Your oral health and overall health may be more connected than you thought. Diabetes can cause symptoms that can negatively affect your oral health and lead to infections and cavities. So, what exactly does your smile have to do with certain health problems—and how can you protect it? Read on to learn about how diabetes can affect your oral health.
How Does Diabetes Affect Your Oral Health?
Diabetes can have an impact on your oral health in a few different ways. Oftentimes, a key symptom of diabetes is dry mouth, which stunts your ability to produce saliva that helps rinse food debris and bacteria from your mouth. When these particles are left to collect, it can cause tooth decay and infections, which is why people who have diabetes are more susceptible to developing cavities.
Other symptoms of diabetes that can affect your oral health include:
Oral infections
Problems tasting food
Inflamed or bleeding gums
Mouth ulcers
In addition, because diabetes slows down the healing process for cuts and wounds, surgeries like getting dental implants may not be possible. High blood sugar levels cause poor circulation and affect your nerves, leaving you at a higher risk of developing infections as well.
What is the Connection Between Gum Disease and Diabetes?
The simple fact is that diabetes and gum disease impact each other. If you have diabetes, you are at a higher risk of developing gum disease, a condition in which excessive amounts of bacterial buildup result in irritation and infection. On the other hand, because infections can cause your blood sugar to increase, people with diabetes and gum disease can struggle to control their blood sugar, making it more difficult to fight off oral bacteria.
How Can Someone with Diabetes Protect Their Oral Health?
Letting your dentist know that you have diabetes can help them know how to better prevent you from developing connected oral health issues like gum disease. They may recommend fluoride treatments or coming in for more frequent checkups and cleanings. Controlling your blood sugar is the most important way to maintain a healthy mouth.
Seeing your dentist often if you have diabetes can help alert you to early signs of cavities, gum disease, and other problems before they progress into something more serious. Keeping up with your routine checkups and cleanings can make treating these issues easier and more effective.
Having diabetes doesn't automatically mean that you'll also get gum disease. If you control your diabetes, maintain your regular oral hygiene routine of brushing and flossing, and visit your dentist frequently, you can help prevent serious oral complications. Being proactive instead of reactive can save you time and hassle!
About the Author
Dr. Jaclyn Jensen has been practicing dentistry for over a decade. She focuses on providing her patients with a comfortable and welcoming environment so they can relax while receiving the highest quality of dental care. She keeps up to date with the most recent technological dental advancements and looks forward to individualizing your treatment! For any questions or to schedule an appointment, visit her website or contact Renu Dental at 218-281-1301.
Comments Off

on Your Dentist on How Your Diabetes and Oral Health Are Connected
No Comments
No comments yet.
RSS feed for comments on this post.
Sorry, the comment form is closed at this time.