June 11, 2020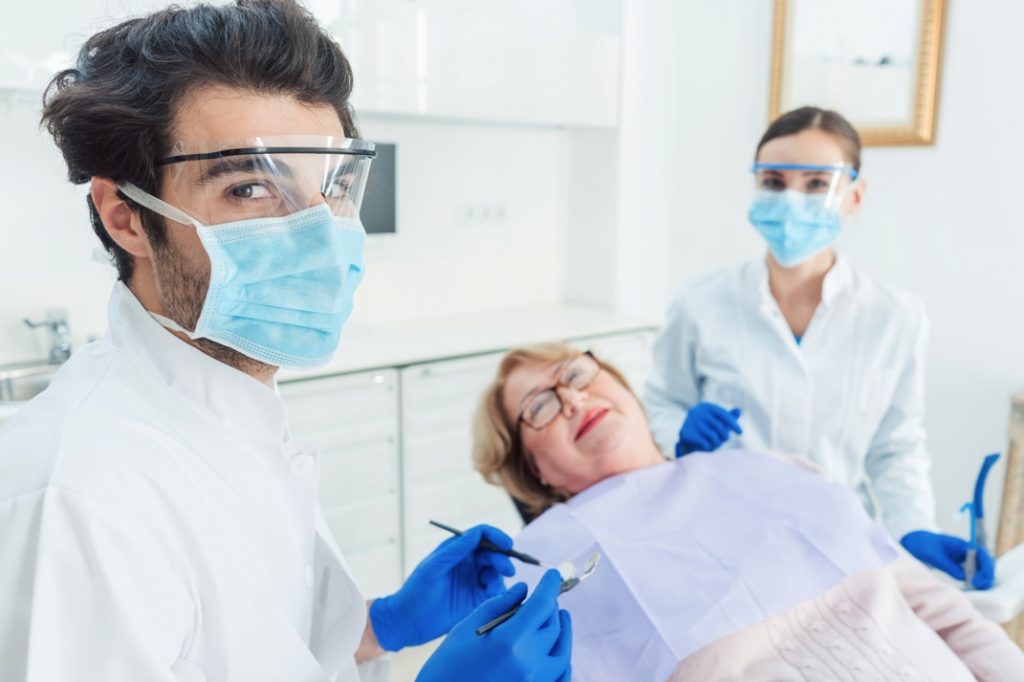 Many aspects of your life have changed since the start of the COVID-19 pandemic. You've been practicing social distancing, wearing a cloth face covering, and limiting your public outings. What does this mean for the dentist? Is the dental office safe? Everywhere you go, you come into contact with germs. However, health care workers are required to follow strict safety guidelines for the wellbeing of their patients. During the pandemic, more protocols have been added and the existing ones are even stricter than before. Continue reading to learn about some of the increased safety measures that your dentist in Crookston is taking to protect their staff and patients from the virus.
Advanced Staff Training
Each member of your dental team has completed additional awareness and prevention programs to enhance their knowledge and preparedness. Because your staff is more educated on the virus, they are now better able to keep you and your family safe.
Daily Team Health Checks
Every day, when your dental team comes to the office, they will be asked a set of questions regarding their current health. Their temperature will also be taken using a no-touch thermometer to ensure that they don't have a fever. Everyone working in the office will be ready, willing, and able to provide safe dental care.
Patient Prescreening
Before the start of each appointment, every patient will be required to complete a health questionnaire and consent form. Your dental staff will also conduct a no-touch temperature check to every person who comes into the office. If your temperature is too high, they will be happy to reschedule your appointment for a later date when you are feeling better.
Sequencing Patient Scheduling
All appointments will be spaced out more than usual. This will give the dental staff more time to sanitize the treatment room and any commonly touched surfaces. Doing this will also prevent unnecessary contact between patients.
Hospital-Grade Hand Sanitizing Station
Before entering the clinical area, every patient will be asked to thoroughly disinfect their hands. This is just another step to kill germs and prevent potential spread of the virus.
Increased Cleaning Protocols
As always, there will be cleaning before and after each appointment. Now, it is even more thorough than before. All instruments, equipment, and surfaces will be properly sanitized and disinfected.
More Personal Protective Equipment (PPE)
Your dentist always wears PPE when treating her patients. During your next appointment, she will be wearing even more. This includes higher quality masks, protective coats and hats, and face shields. When your dentist is protected, so are you!
Advanced Chairside Suction
Whenever it is possible, your dental team will activate a high-speed evacuation to minimize aerosol contamination and improve air quality.
Even during a pandemic, your oral health is still a priority, and visiting your dentist is an important part of keeping up with it. Your dental team is doing everything in their power to keep themselves and their patients healthy. If you have questions or concerns, give them a call. They will be happy to address any you may have.
About the Author
Dr. Tiara Applequist and Dr. Jaclyn Jensen practice at Renu Dental in Crookston, MN. They both attended the University of Minnesota and work hard to provide their patients with personalized dental care in a safe atmosphere. They have added 17 additional steps to keep their office safe throughout the COVID-19 pandemic. For more information or to schedule an appointment, visit their website or call (218) 281-1301.
Comments Off

on What Safety Measures Are Dentists Taking During the COVID-19 Pandemic?
No Comments
No comments yet.
RSS feed for comments on this post.
Sorry, the comment form is closed at this time.