July 27, 2023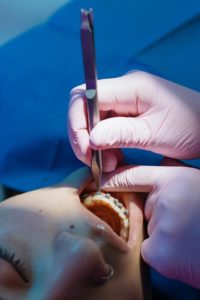 If you missed your chance for braces as a teen or your teeth have shifted over time, you're never too old to invest in a straight, healthy smile. Traditional braces can fix bite and alignment issues, but how long will you need to wear them? Here's how long your journey to a straight smile might take.
How Do Braces Work?
Metal braces have been used for generations to improve the alignment of teeth. Although there have been several improvements throughout the decades, the technique remains mostly unchanged.
Brackets are cemented onto your teeth to hold an archwire. Elastics are placed on the brackets to prevent the wire from moving. They also apply pressure to help move your teeth.
The system will gently pull your teeth into their correct positions. Adjustments are made to the archwire and elastics throughout the process. Your treatment may consist of other components, like spacers, palate expanders, and other orthodontic solutions.
Factors Affecting Braces Timeline
The average treatment for metal braces is about 18 to 24 months; however, various factors affect your timeline, including:
Preparatory Procedures: It's not uncommon to require preparatory treatments before getting your braces, like a dental cleaning, gum disease therapy, or tooth extractions.
Complexity of Case: Major tooth movements can take longer to correct. Fixing your bite can also add time to your treatment plan.
Number of Arches: Treating both arches may require more time; however, it's unusual to only treat the top or bottom teeth.
Age: Teens and young adults experience quicker tooth movements because they are still growing and developing. Older adults may need more time for their teeth to move.
Treatment Compliance: Maintaining your adjustment appointments and following your dentist's instructions will ensure there aren't any delays.
After examining your mouth and creating a personalized treatment plan, your cosmetic dentist will explain how long you'll need to wear braces.
After Your Braces Come Off
Once it's time for your braces to come off, your treatment isn't over. You'll need to wear a retainer to prevent your teeth from moving back into their previous positions.
Initially, you'll be instructed to wear your retainer all of the time until you only need it at night. The length of time you need your retainer will decrease as your bone and tissues heal around the new positions of your teeth.
Braces are a big commitment, but it's time well-spent to invest in a healthy, beautiful smile. You'll enjoy long-lasting results using a solution that's supported by decades of success.
About Dr. Tiara Applequist
Dr. Applequist earned her dental degree at the University of Minnesota and has regularly continued her education in many specialties, including orthodontics. She can treat the most complex bite and alignment issues with metal braces. If you're ready to invest in a healthy, straight smile, request an appointment online or call (218) 281-1301.
Comments Off

on How Long Will I Need to Wear Braces?
No Comments
No comments yet.
RSS feed for comments on this post.
Sorry, the comment form is closed at this time.