August 27, 2020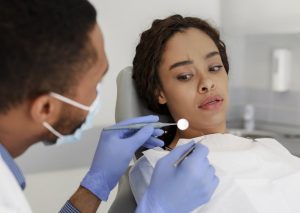 Has it been longer than six months since you last received a tooth cleaning in Crookston due to your dental anxiety? It's estimated that 36 percent of the population suffers from dental fear. Unfortunately, this can have dire impacts on your oral health by keeping you from receiving routine treatment necessary to keep your teeth and gums healthy. Read on to learn about how you can overcome dental anxiety and why you may experience this common emotional response to visiting your dentist.
Why Do You Have Dental Anxiety?
No matter your age, dental anxiety can have an impact on your mental and oral health. Some of the most common reasons why people have an emotional response to the thought of visiting a dental professional include:
A bad experience that you had when you were a child.
A lack of control in that environment.
You find the smells and sounds of the dental office off-putting.
Anxiety associated with agoraphobia (fear of leaving the house) or claustrophobia (fear of small, closed spaces).
Fear of receiving bad news about your oral health.
How Can a Fear of the Dentist Impact Your Oral Health?
Forcing yourself to confront situations that scare you or make you feel anxious and unsettled can have a serious impact on your mental health. That's why it's important to visit a sedation dentist if you have mild, moderate, or severe dental phobia. Over time, your fear can cause you to keep putting off basic oral maintenance, such as routine checkups and cleanings, because you don't want to have to endure sweating, a racing heart, low blood pressure, and other side-effects that come with your fear. This is completely understandable. However, your fear and anxiety may cost you your oral health if you aren't able to find a way to comfortably receive dental treatment.
Each time you skip routine dental appointments, small, lingering oral health problems, like cavities, have a chance to become more serious. There are nooks and crannies in your mouth that require a detailed professional cleaning. If these areas aren't cleared of plaque and tartar, it can lead to tooth and gum infections that can cause permanent damage to your smile.
What Can You Do To Overcome Your Dental Anxiety?
It's safe to say that you're not going to get over your dental anxiety in a day. Fortunately, your dentist offers sedation methods, like nitrous oxide in Crookston, to help you feel more comfortable while receiving the oral healthcare that you need. Within just a few minutes of breathing in the nitrous oxide gas, you'll begin to feel more relaxed. This will allow your dentist to efficiently provide you with treatment so you don't have to stay in the office for longer than necessary. Once you get home, you'll be able to finally have the peace-of-mind that your smile is healthy.
About the Author
Dr. Tiara Applequist is passionate about helping her patients feel comfortable in the treatment chair. She is familiar with working with patients who have fear or anxiety surrounding visiting the dentist's office, and regularly utilizes nitrous oxide sedation to help them feel more at-ease. She also takes pride in providing thorough preventive dental care that tackles small oral issues before they ever have a chance to become more serious down the road. For questions or to schedule an appointment, visit Renu Dental's website or call 218-281-1301.
Comments Off

on How Can Tackling Dental Anxiety Improve Your Oral Health?
No Comments
No comments yet.
RSS feed for comments on this post.
Sorry, the comment form is closed at this time.