January 7, 2019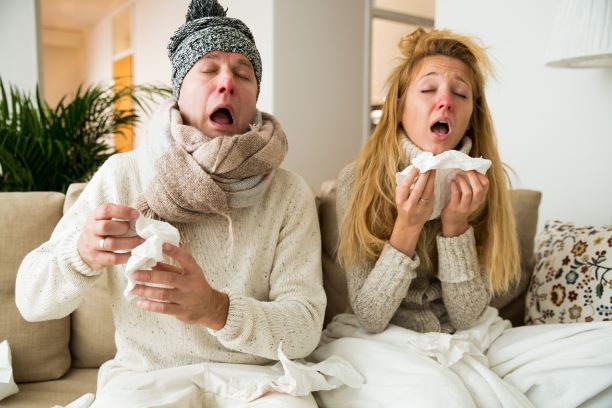 Winter is upon us, with all the seasonal miseries it can sometimes bring. When your nose is stuffy, and your head is aching, it's perfectly fine to take an over-the-counter cold reliever for your symptoms. But those same remedies may set you up for a toothache down the road unless you follow these flu season tips from a local dentist.
Drink Plenty of Fluids
Is there anything worse than sinus drainage? Perpetually blowing your nose in order to catch a few breaths is enough to make the heartiest among us wish for summer in the worst possible way.
Decongestants can help to relieve this common symptom. Unfortunately, they can also create problems with dry mouth. This is more than an inconvenience, since your mouth relies on saliva to keep cavity-causing bacteria in check.
This does not mean that you should avoid taking cold or flu medicine. Just remember to drink plenty of fluids to help counteract the unwelcome side effects. The best beverage choice is plain water, although you can substitute clear broth or soup if you prefer. You can also spritz of lemon juice to give your H2O a bit of flavor.
Look for Sugar-Free Formulas
The people who make cold and flu medications deserve whatever rewards they get for helping people to feel better. Sometimes, however, they add sugar to their products, which may lead to dental problems.
The way to deal with this is to choose sugar-free versions instead. That way, you'll get all the relief without the sugary overload. Your teeth and gums will thank you for the difference.
Enjoy Your Orange Juice the Smart Way
Whether or not orange juice actually speeds recovery is a matter of fierce debate. Nonetheless, this delicious beverage does help cold and flu sufferers to feel better. It's also loaded with vitamin C and other things that are good for us.
On the other hand, orange juice is filled with sugar, which is notorious for causing toothaches. It's also highly acidic, which can erode your teeth's protective enamel and make cavities more likely.
To deal with this problem, look for brands with no added sugar. It's also a good idea to drink your OJ at one sitting rather than sipping it through the day. That way, you can brush immediately afterwards.
Use a Humidifier
One way to counter the drying effects of both decongestants and heated winter air is to use a humidifier. Not only will this help to keep your mouth moist, it can also soothe your throat and your nasal passages.
Cold and flu season will be with us for a few months yet. Put another log on the fire, curl up in a comfy blanket, and take it easy while your body recuperates. Just do so in a way that's good for your teeth as well as the rest of you. That way, you can welcome spring 2019 with a smile on your face, not a toothache-induced scowl. There's no better way to set the stage for a great new year.
About the Author
Dr. Jaclyn Jensen has been a practicing dentist for more than 10 years. She earned her DDS degree from the University of Minnesota School of Dentistry. You can reach her office online or by calling (218) 281-1301.
Comments Off

on Here Are Some Tooth-Friendly Flu Season Tips from a Dentist
No Comments
No comments yet.
RSS feed for comments on this post.
Sorry, the comment form is closed at this time.