March 31, 2020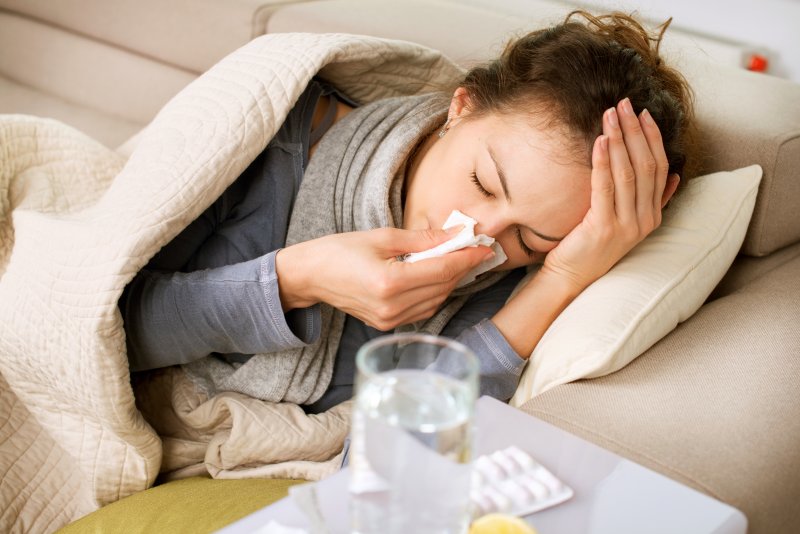 Do you have a family member with dental pain who is doing everything they can to self-quarantine because they have COVID-19? Are you feeling dental discomfort yourself but want to stay inside as recommended by your local health officials? While these can be difficult and uncertain times, there are home remedies worth considering to improve your situation and reduce any discomfort you may be experiencing. Once you are no longer sick from infection, call an emergency dentist as soon as possible to schedule an appointment!
Rinse Your Mouth Out
Salt water can act as a natural disinfectant, especially for dental pain. To create a salt water rinse, combine ½ teaspoon of salt and one 8-ounce glass of warm water. Use it like you would mouthwash (i.e. swishing the mixture in your mouth for up to one minute to reduce discomfort.)
You can also use hydrogen peroxide, just make sure to properly dilute it first. Mix 3 percent hydrogen peroxide with an equal amount of water, then swish around your mouth for one minute. Do not swallow this mixture.
Take Over-the-Counter Painkillers
The best painkillers you can use for a toothache include anti-inflammatory analgesics, including ibuprofen. Avoid aspirin if you can as direct contact can cause a burning sensation in the tooth. Take ibuprofen as indicated on the label.
Apply a Cold Compress
Applying a cold compress to your face causes the blood vessels to constrict, therefore making any pain you're experiencing less severe. It also works to reduce swelling and inflammation that might be present. Hold a towel-wrapped bag of ice (or frozen vegetables) to your face for ten minutes at a time, making sure to remove it for an additional 10 minutes. Repeat this for up to one hour.
How Our Office is Taking Disease Transmission Seriously
At Renu Dental, we're taking all the steps necessary to keep our patients safe from contracting COVID-19. This means performing our sterilization protocols even more often and being extremely thorough with all of our dental instruments and surfaces throughout the office. If you are no longer contagious or have tested negative for COVID-19, please call our office as soon as possible to schedule your emergency appointment so you can receive proper treatment!
About Renu Dental
Dr. Jensen and Dr. Applequist want to do everything possible to help patients take care of themselves during this difficult time. Whether you're suffering from tooth pain or another dental emergency, they encourage you to give the office a call if you have a dental issue but cannot leave your home because you carry symptoms for or have tested positive for COVID-19. They are more than happy to help you in your time of need, so feel free to contact them through their website today!
Comments Off

on Got Tooth Pain During Self-Quarantine? Learn These At-Home Remedies!
No Comments
No comments yet.
RSS feed for comments on this post.
Sorry, the comment form is closed at this time.