July 4, 2022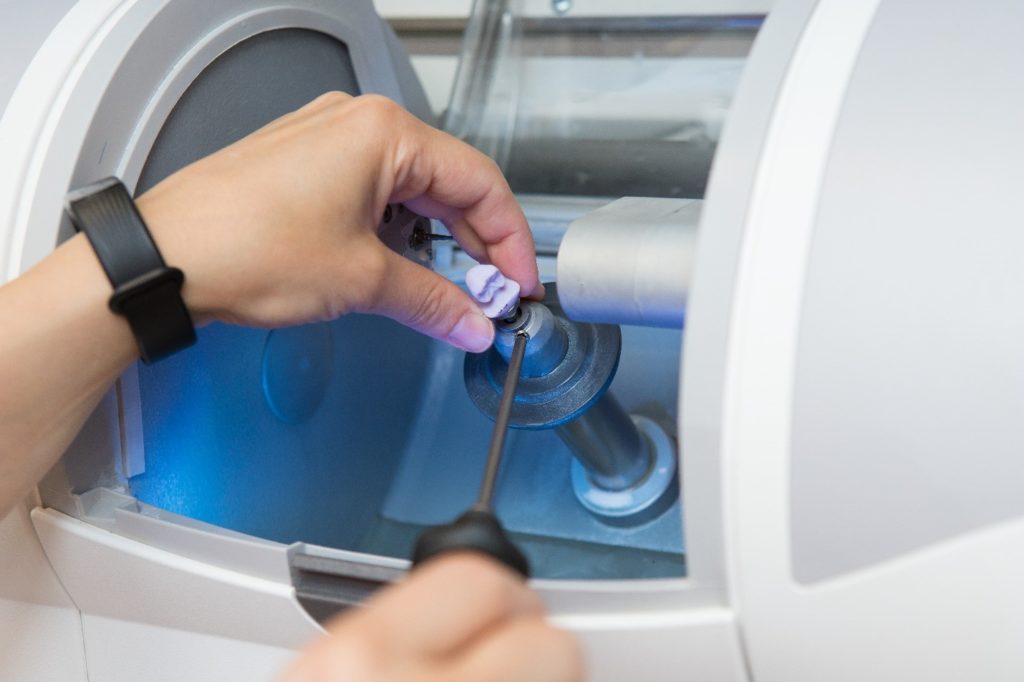 As technology continues to advance at an incredible rate, one field that has seen an impressive amount of innovation is restorative dentistry. There are now so many ways to repair, restore, and replace compromised teeth—and among those methods are CEREC crowns. This awesome technology allows your dentist to provide your smile with a restoration that can last decades, and much more quickly than the traditional crown process! Keep reading to learn more about the CEREC crown process, how long it takes, and the many benefits that this solution has to offer.
What Is a CEREC Crown?
Dentists often use crowns to reinforce weakened teeth, or sometimes even to replace teeth that are missing. They can also be used to correct superficial issues like chips and cracks that have developed in teeth. They're a useful and flexible restorative option with several applications—but what makes CEREC crowns different?
CEREC crowns are created with the help of a special machine. First, a small camera takes a digital 3D impression of your teeth, which the machine then uses to manufacture your crown(s) with the help of computer-aided design. This allows for a quicker process and a precisely measured crown that will fit your mouth perfectly! With proper care, CEREC crowns can last for up to 10 – 15 years.
How Long Does It Take to Make A CEREC Crown?
Traditional crowns can take about two or three weeks to receive, but the process for getting CEREC crowns is incredibly streamlined and usually takes only a single appointment. Your dentist won't have to spend multiple appointments measuring your teeth and preparing your crowns, and you won't have to wear temporary crowns either. Once your dentist has taken the digital impressions, it's simply a matter of letting the CEREC machine do its job and manufacture perfect, ready-to-wear crowns.
What Are the Benefits of CEREC Crowns?
Same-day treatment isn't the only benefit to receiving CEREC crowns; there are many other great benefits including:
Made of high-quality porcelain that increases your chewing power and looks natural.
More stain-resistant than your natural teeth.
Preserves more of your original tooth compared to a traditional crown.
No need for messy impressions or temporary crowns.
Improves oral health by restoring compromised teeth.
CEREC crowns offer a quicker and more convenient option for restoring compromised teeth when compared to their traditional counterparts, and without sacrificing any reliability or efficacy. If you're curious about receiving CEREC crowns, talk with your dentist to see if they're a viable solution for you.
About the Practice
Renu Dental Care proudly serves patients and families in the Crookston, MN area under the leadership of Dr. Tiara Applequist. Dr. Applequist received her dental doctorate from the University of Minnesota and has several years of experience in a wide variety of fields. Her practice is pleased to offer many available services including CEREC crowns. If you have any questions for Dr. Applequist or would like to schedule a visit, you can contact her through her practice's website or by phone: (218) 281-1301.
Comments Off

on Everything You Need to Know About CEREC Crowns
No Comments
No comments yet.
RSS feed for comments on this post.
Sorry, the comment form is closed at this time.