March 26, 2018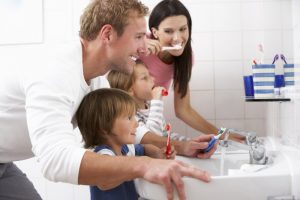 You might not think about how much you use your mouth throughout the day. Your teeth and gums play a critical role in helping your daily life run smoothly, including help with digesting food and speaking clearly. However, there are some habits that can cause your smile to become damaged if you're not careful.
To keep your teeth and gums safe from damage and discoloration, your dentist will explain some habits to avoid and keep your smile in great shape. Continue reading to learn more!
Avoid Dark Foods to Keep Your Teeth White
Although stained teeth aren't necessarily painful or damaging to your smile, they can affect your confidence. To avoid yellowing teeth, you must pay attention to the substances you put in your mouth.
If you drink a lot of juice, coffee, wine, or black tea, you could be changing the shade of your teeth. These dark pigments penetrate the layers of your teeth and stain them. The only way to lift stains effectively is with the help of a dental professional.
Also, if you use tobacco—whether you smoke it or chew it—you're definitely changing the color of your smile forever. Plus, tobacco use definitely declines your oral health in many ways, even potentially causing oral cancer.
Dentists Offer High-Quality Teeth Whitening
As mentioned above, the best way to lift stains is to trust a dentist with professional grade bleaching. Whitening treatments from your dentist are much quicker, more effective, and last longer than other over the counter products.
Avoid Crunchy, Hard Foods to Keep Your Smile Intact
Is your favorite snack trail mix? Try to avoid constantly exposing your teeth to hard, crunchy foods—especially if you're had past dental work. No matter how tasty that mix is, the hard foods that make it up can damage dental work or even cause your teeth to crack or break.
Also, chewing on ice is one of the worst habits that you can have for your smile. All it does is add unnecessary wear and tear on the teeth. It can also wear away enamel or cause your tooth to break or crack.
Dentists Can Help with a Damaged Tooth
In the event that your tooth does experience dental trauma like a cracked tooth, you'll need to visit your dentist. They will have the opportunity to take a look at the damage and determine the best way to repair your tooth. Every case is different, so depending on the cause and severity, you could benefit from a simple filling or you might even need a dental crown.
It's best to avoid some behaviors to save your smile, but sometimes accidents happen. No matter what your concern is—whether it's discoloration or damage—the takeaway point is that your dentist is here to help you recover optimal oral health and aesthetics.
---
About Our Office
Here at Renu Dental Care, we want you to know that we can help address any dental concerns. After visiting our office for a quick consultation, we would be happy to plan a personalized dental treatment plan to help you achieve your best smile. Call us today to get started!
Comments Off

on Avoid These Bad Habits Before You Have to Visit the Dentist!
No Comments
No comments yet.
RSS feed for comments on this post.
Sorry, the comment form is closed at this time.