January 18, 2023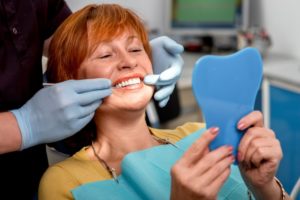 While smiling has been proven to have many benefits to your life, not all people like to show theirs. A study conducted by OnePoll revealed that 57% of Americans cover their mouths when they laugh due to insecurity over their teeth and one in two will even try to smile with their mouth closed. This largely has to do with the discoloration of their "not-so-pearly whites". There are many reasons for teeth stains, including consuming dark-colored foods and beverages, medications, and even just being older. But are your dental implants capable of being affected by these things, too? Read on to discover if they can become stained and how to best protect your restoration!
What Keeps Your Dental Implants Bright and White?
Your natural teeth have a protective coat on them called enamel. It is very porous, so all the little spaces hold onto stain-causing particles. This is what leads to your smile becoming darkened. On the other hand, dental implant restorations are made from porcelain, which is non-porous. This makes your restored grin highly stain resistant. Additionally, the glaze over your dental implants protects them from getting discolored. However, the risk of staining dental implants is not zero! There are still some factors that can eventually cause your dental implants to lose their shine.
So, What Can Cause Dental Implants to Become Stained?
The glaze on your dental implants can become worn and leave them more susceptible to discoloration. Here are some ways it can become damaged:
Frequent consumption of acidic foods
Using abrasive toothpaste
Neglecting to follow a good oral hygiene routine
Chewing on hard items (i.e., ice, hard candy, fingernails, pen caps)
Tips to Avoid Dental Implant Discoloration
Dental implants are designed to function and look just like your natural teeth so they should be treated with the same care. Here are some tips to help you avoid staining and discoloring them:
Avoid Smoking or Using Tobacco Products – Tobacco products contain nicotine and tar, which causes your teeth to appear yellow or brown. More importantly, it can also increase the chance of dental implant failure.
Stay Away from Foods and Drinks That Contain Tannins – Tannin is a naturally occurring substance that can also leave behind dark stains. Limit your consumption of foods and beverages like coffee, berries, and red wine.
Do Not Use Abrasive Toothpaste – Be sure to use a non-abrasive, gentle toothpaste or gel while brushing your pearly whites to keep them protected from wearing down the outer part of your dental implants.
Maintain Good Oral Hygiene – Nothing ever will keep your teeth bright and healthy as much as consistently brushing twice a day and flossing daily.
Dental implants are a durable and long-lasting solution to restore your smile. By keeping these tips in mind, you can keep your implants bright and beautiful for years to come!
About the Author
Dr. Tiara Applequist and her team at Renu Dental keep the smiles of Crookston whole and healthy! She provides a full range of services, including restorative solutions like dental implants. With the use of personalized plans and advanced dental technology, she can help you keep your implants in their best condition for years to come. To schedule an appointment, visit her website or call (218) 275-2415.
Comments Off

on Can Your Dental Implants Get Stained?
No Comments
No comments yet.
RSS feed for comments on this post.
Sorry, the comment form is closed at this time.