September 25, 2020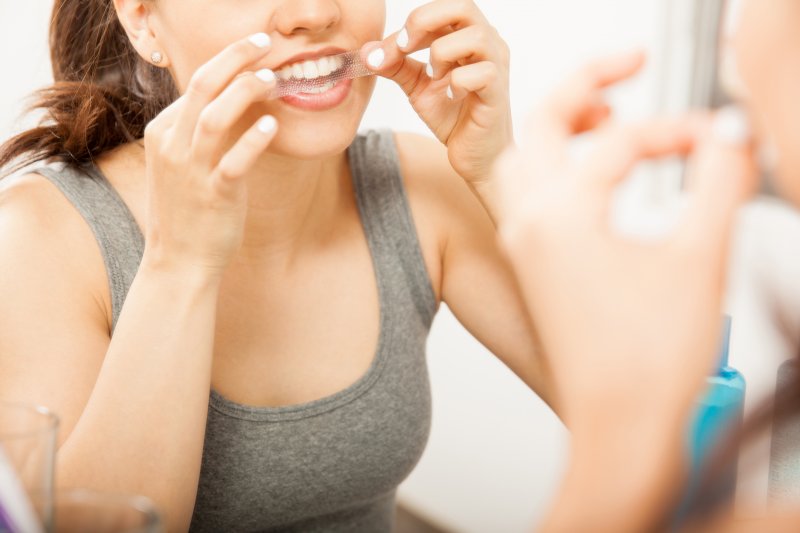 A recent study conducted by Crest confirmed what many of us already knew: white teeth are better! In addition to the obvious aesthetic benefits, people with whiter teeth are 58% more likely to be hired and are viewed as 10 years younger on average. So, it's not surprising to hear that people spend a whopping $11 billion annually on teeth whitening products! However, few are aware of the risks of opting for store-bought kits, which yield lackluster results and can negatively impact your oral health. Read on for the dangers you may not know and the advantages of professional treatment.
5 Risks of Using Store-Bought Teeth Whitening Kits
Over-the-counter whitening treatments promise patients the powerful effects of professional treatment at a fraction of the cost. However, it is important to remember that things that sound too good to be true often are. In fact, many store-bought options are not approved by the American Dental Association and can lead to:
Tooth sensitivity.
Uneven results.
Ingestion of harmful chemicals.
Tooth damage.
Gum irritation.
Over-the-Counter vs. Professional: What Is the Difference?
Both store-bought and in-office treatments are designed to lift stubborn stains and remove unsightly discoloration. While over-the-counter alternatives rely on one-size-fits-all applicators and a low-quality whitening gel, professional treatments use custom trays and professional-grade whitening agents. That way, patients can enjoy a bright, seamless smile while simultaneously preserving their oral health.
5 Additional Benefits of Using Professional Treatment
The advantage of having an expert supervise your treatment to ensure your safety is valuable enough. However, the benefits of having your dentist conduct your teeth whitening treatment don't stop there. Here are five additional pros:
Fast, reliable results.
Full whitening.
Personalized treatment.
Long-lasting outcome.
Comfortable environment.
When it comes to brightening your smile, there is no room for error. To ensure you get the white, beautiful results you deserve, forgo the store-bought options and talk directly with your dentist about undergoing a teeth whitening treatment. That way, you can get the powerful, long-lasting results you deserve!
About the Author
Since graduating from the University of Minnesota with her Doctor of Dental Surgery, Dr. Jaclyn Jensen has continued to place an emphasis on education by completing countless hours of continuing education courses. Today, she uses her 14 years of experience, the latest technology has to offer, and her genuine passion for her craft to deliver jaw-dropping smiles that turn heads for all the right reasons. So, whether you need a complete smile makeover or small upgrade, Dr. Jensen is ready to help! If you are looking to lighten your smile, visit her website or give her a call at 218-281-1301.
Comments Off

on 5 Risks of Using Store-Bought Teeth Whitening Kits
No Comments
No comments yet.
RSS feed for comments on this post.
Sorry, the comment form is closed at this time.