Benefits of Dental Implants – Crookston, MN
The Advantages of an Implant-Supported Smile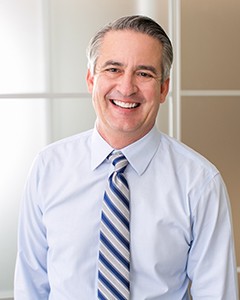 No matter how many teeth you've lost, dental implants are able to rebuild the appearance and function of your smile back to what they used to be. For this reason, implants are often considered the gold standard when it comes to replacing missing teeth. They offer countless advantages over other restorative options such as traditional bridges or dentures. To learn more about the benefits of dental implants, keep reading below, or just give us a call!
A Truly Long-Lasting Solution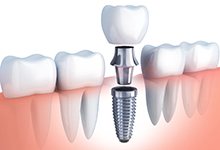 Dental implants are the only method of tooth replacement that replicates the entire structure of the lost tooth, not just the crown that's visible in your mouth. The implant itself is placed beneath your gumline in your jawbone, and is topped with a custom-made restoration. Within a few months after placement, the implant has fused to your jawbone, creating a powerful bond that can last for decades to come. It's also easy to maximize the lifespan of your new teeth. Just brush, floss, and attend dental checkups on a regular basis.
Maintain a Youthful Appearance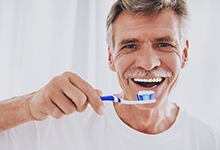 When even one tooth is lost, the root is no longer there to stimulate the jawbone. As a result, the bone starts to shrink. Over time, this can change the shape of your facial muscles as they lose support, resulting in your looking older due to premature drooping and wrinkling. Because implants stimulate bone growth, you can stay looking young for years and years.
Tooth Replacement That Feels as Natural as It Looks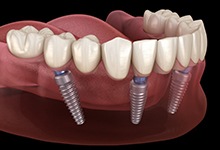 Traditional dentures and bridges only replace the crowns of your teeth, not the roots. So, as natural as they may look, they won't quite feel like the pearly whites you were born with. Dental implants, on the other hand, replace the root structure of your teeth, eventually becoming attached to your jawbone to the point that's it's as if they're a part of your own anatomy. In addition, your implants will be restored with a dental crown, bridge, or denture designed to perfectly resemble your natural teeth.
No More Slippage
Wearers of conventional dentures may be familiar with the annoying and sometimes embarrassing slippage that can occur when eating or talking. Because of the firm bond with your jawbone, implant-retained dentures won't do this. Instead, they'll remain in place as they should. They can even be fixed in your mouth, so all you have to do to clean them is brush and floss like you would with natural teeth.
Protect Healthy Remaining Teeth
In order to place a dental bridge, two of your remaining natural teeth must be filed down slightly to place crowns over them. Over the years, supporting a bridge can take a toll on these teeth, to the point that they might need root canal therapy down the road. With dental implants, none of your natural teeth have to undergo any stress or damage.